KQ500N gas alarm system consists of KQ500N gas alarm controller and gas detector. This system can connect many detectors to detect different kinds of gases and monitor the gases in the distance.
KQ500N gas alarm system applies to petroleum prospecting, oil and gas transmission, refinery, metallurgy, power plant, chemical industry, oil depot, liquefied gas station, mines, tunnels, and underground pipeline.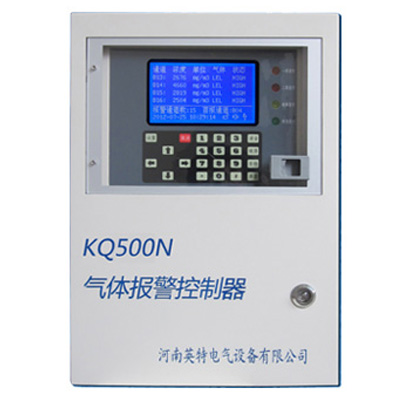 KQ500N gas alarm controller adopts 240 * 128 dot matrix liquid crystal display, each screen can display 4 channel data, or every screen displays all the data.
Alarm Controller collects 4-20 mA or 485 signal from detector, and transfers the signal into digital signal. After internal SCM data processing, LCD screen shows corresponding gas concentration and output control signals.

KQ500N gas alarm controller uses large capacity data storage chip with real-time data record, alarm data record, fault data record and other functions that helps users to manage data from each channel.
The controller has 8 groups alarm relay and two groups fault relay. Those relays can be composed freely. The controller can be directly connected to fan, solenoid valve etc..

The controller is easy to be installed. It realizes measurement, displaying, and public alarm control for 12 channel, 16 channel, 32 channel of detectors. When the concentration of detected gas reaches or exceeds the preset alarming value, controller will send out audible and visual alarm immediately to remind you take safety precautions (start exhaust, control system) to avoid explosion, fire and toxicosis.
Controller features:
l The controller uses high-grade Micro control chip with high speed and good reliability
l LCD displays time and alarm information.
l Monitoring gas concentration in the distance
l High sensitivity, rapid response
l Self-test function;testing the display, output and control functions
l large capacity data storage; automatically save real-time data, alarm data and fault data
l The high and low alarm points of each channels can be set separately
l 4-20 mA Signal Output, relay output (Optional )
l Large capacity backup battery; main power and backup power switches seamlessly (optional)
l Modular design is help for free combination and maintenance
l channel with first alarm, all alarm channels; makes sure the alarm position
l Two level's audible and visual alarm; this helps user to distinguish alarm level.
l Fault alarm and fault signal output function
l Simple operation, strong commonality; input signal is standard 4-20 mA signal or RS485 signal
l Multilevel password management is used to eliminate illegal operation to ensure the system's stability.